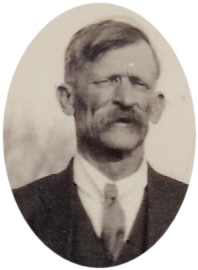 William (Bill) Goebel
December 20, 1860 -June 17, 1940
---
Excerpts from his obituary:
"PIONEER DIES HERE MONDAY

William Goebel, 79 one of the real pioneers of Woods county, OK, died at the Alva General hosptial Monday night after an illness of some length.
Goebel went to the hospital five weeks ago, and died Monday night at 7:15.

He was born December 20, 1860, in Kansas territory, in what is now Osage county.
He left Kansas, however, at the opening of the Cherokee strip, and homesteaded eight miles North and four West of Alva. He still owned his homestead at the time of his death."

..................................


Click for copy of original obituary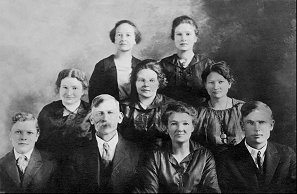 Left to right

Front row: Jake Goebel, William Goebel, Mary Ann Herald Goebel, John W. Goebel

Middle row: Katherine (Katie) Goebel Sears, Elizabeth (Lizzie) Goebel Trenary, Mary Ann (Bun) Goebel Nordyke.

Back row: Lillian Mae Goebel Gossett, Amilia Frances Goebel Ross
Click photo for large, printable image.