Introduction
Because of the interest shown by the grandchildren and great-grandchildren of Ralph Wesley and Mary Etta Goebel Carey, I have attempted to write this story. I am sure that if all eight of Ralph and Mary's children could have been together to compose memories, much more could be written.

My thanks to my son, Bob, and his wife, Jean, for their work in editing, typing and printing this material.
There may be some errors as to times and places of events, but to the best of my knowledge, what I have written here is correct.
My prayer is that this story will cause the family to feel more closely acquainted with Dad and Mom, and to appreciate more and more the sacrifices they made so that all of us might have a better life.
Hazel Carey Thompson
Clovis, New Mexico
July, 1980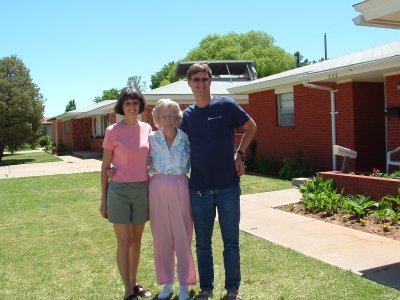 Above is the original introduction to an inspiring, typewritten, mimeographed pamphlet entitled, The Story of Ralph and Mary Carey. I have always cherished the story and appreciated Aunt Hazel and my cousins so much for taking the time to make it available to me and others in our family. Nearly 25 years have past since the writing of this story. I love knowing more about my grandparents, so I wanted to re-publish this information in a way that would make it available to all of their descendants.

I hope you'll enjoy the story as much as I have. Perhaps, like myself, you'll see a resemblance in the pictures and discover where you got your love of family, and the ability to accept a challenge.

Thanks to my Aunt Hazel for writing the book, my cousin, Becky Carey Lyles for sending me the manuscript when I temporarily lost mine, and to my sister, Gloria Carey McCoy and my cousin, David Carey for sharing photographs.
I would love to hear from you. Give me your suggestions and comments. I hope you will share this web address with your family. Most of the linked photos are high resolution for quality printing. This could be a problem for those of you not using a cable connection. Please contact me if you would like a photo of a smaller file size or to contribute to the information that is posted here.
Jill Carey-Lickley
Woodland, CA
July 2005