Chapter Four: The Story of Ralph and Mary Carey
It was impossible for Mary to live on the farm alone, so she sold the place, having only a few dollars left after paying the mortgage and other bills.She moved into an apartment in Wheatland and took a job of staying nights with an elderly, ill lady. Life was so different, the adjustment was hard, and she was terribly lonely. Later, however, she found a five-room house near the shopping area, a home she came to love and where she lived for over twenty years.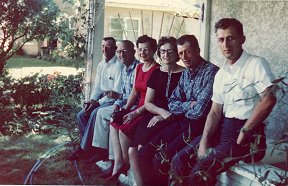 She also took a part-time job as a caretaker of a ladies rest-lounge where women and children could come to relax during sopping trips. This job was only for a short time, but Mary enjoyed it very much. She had many friends and kept an interest in a variety of things such as quilting, cooking, flowers-especially violet and different types of art and handcrafts.
Her main interest was her children and grandchildren, and it seemed she was happiest when they were visiting her. Perhaps it was because she was raised without her mother that Mary was not one to show affection openly. But her eagerness to have her family near, and her many years of hard work and sacrifice showed that her love and affection were deep and undeniable.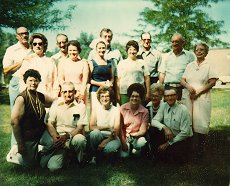 It became a family tradition to have a family reunion at Thanksgiving each year or on July 4th. This was the highlight of the year for Mary, and she planned it weeks ahead. In between reunions she had period of loneliness when memories of the past filled her mind. She wrote many letters and made many telephone calls in an effort to keep the family in touch and united.
Mary was heard to say often, "I hope I never live to see one of my children die. I don't think I could bear it." However, this was not to be, for Helen became ill and after several years of battling breast cancer passed away in 1977. Helen's long illness and death were very difficult for Mary, and the family could see her health was failing. She had strokes quite often, some so serious as to require hospitalization.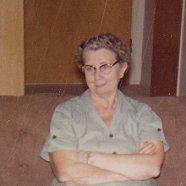 She had discovered a lump in her breast but did not tell the doctor for several months. Finally, since her symptoms were similar to Helen's she decided she should have it checked out. Mary, who had never been to a hospital to deliver her babies or had any type of surgery before had to undergo a racial mastectomy, and before the year was out, a colostomy.
She never fully recovered form the last surgery. She was allowed to come home and with the help of her family stayed a week before returning to the hospital. During her illness she was always hopeful that she would recover. She had great faith in her doctor and trusted him completely.
One day, one of her last days-she told her daughter, "It seems like I can almost reach out and be where your Dad and Helen are…Then I think of the rest of you, and I know I shouldn't go yet."
Mary passed away in Platte County Hospital in Wheatland on March 4, 1978, at the age of eighty-six. She was buried beside Ralph in the Wheatland Cemetery. Her grandsons were her pall-bearers, and all her children were home for the funeral. Another chapter was ended. [funeral program: cover-inside]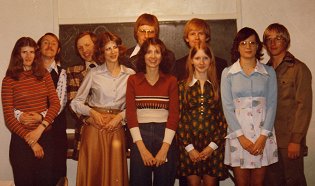 At the time of her death, Mary's grandchildren numbered twenty-three and her great-grand-children, thirty-four. It is for these descendents that this story had been written-and with them a new chapter begins.